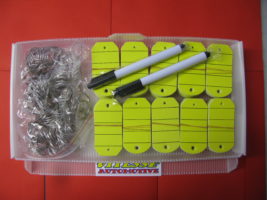 We supply three types of KEY TAGS, the STANDARD tag with key ring, the SELF-FASTENING tag with a cable-tie type tail and the NARROW SLIMLINE tag which saves space in key boxes and is ideal for service departments.
ALL OUR KEY TAGS ARE NOW THE SAME PRICE:
1 – 2 Boxes: €39 Per box, 3 – 5 Boxes: €36 Per box, 6 – 9 Boxes: €33 Per Box, 10 or more Boxes: €30 Per box. All prices are subject to VAT.
The standard tag an additional hanging hole so as tag can be easily read while hanging up. These are available in high visibility YELLOW or PINK (both colours are easy to see, easy to write on) in boxes of 200 with two marker pens, although any good pen may be used. Our standard key tags are manufactured from hard wearing, weatherproof plastic.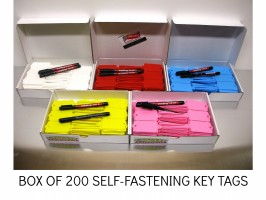 We also stock the innovative SELF-FASTENING key tag in 2 different sizes, regular and SLIMLINE with the 'cable tie' type fixing which you simply place round an existing key ring and pull tight, the Standard size are available in YELLOW, BLUE, ORANGE & GREEN in boxes of 200 with 2 pens.
The SLIMLINE SELF-FASTENING narrower style are available in white only, and they come with 1 marker pen and 300 tags to a box.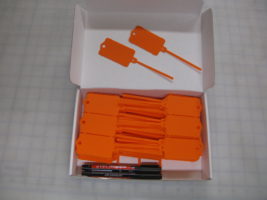 SELF-FASTENING KEY TAGS ARE NOW AVAILABLE IN ORANGE & GREEN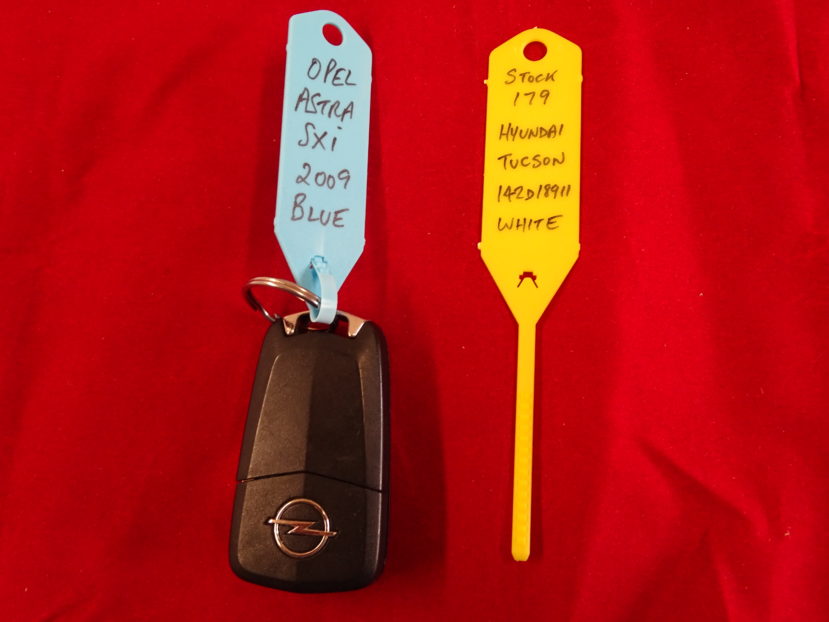 SLIMLINE SELF-FASTENING (CABLE TIE TYPE) – These narrow tags take up less space and are ideal for key boards or key boxes with closely spaced hooks. AVAILABLE ONLY IN WHITE. Supplied 300 per box with 1 marker pen.
To order call us on 087 925 1002 or e-mail info.hpsauto@gmail.com or sales@hiprofilesigns.com
Hi-Profile Signs & Automotive Solutions,
Hi-Profile Automotive Solutions are specialists in cost effective showroom and forecourt display & advertising material, and point of sale products, such as visor price boards, window boards, windscreen corner flashes, key tags, key rings, roof signs, back window stickers, tax & insurance holders, reg plate surrounds, reg plate surround stickers, service reminder stickers, car data cards and mini window stickers. Hi-Profile offer a complete service from design, printing and manufacture right through to delivery and application or fitting where required. MOST UNBRANDED PRODUCTS ARE AVAILABLE OFF THE SHELF FOR NEXT DAY DELIVERY. Hi-Profile specialise in complete start-up packages and can offer excellent discounts, for example, we can supply Tax & Insurance holders, Rear Window Stickers and Number Plate Surrounds all branded with your details as a package for far less than if purchased individually.
The business is 100% Irish owned, and a large proportion of our product range is manufactured in this country with local labour and we welcome your support.
At Hi-Profile we have a vast selection of products and as a result we are expert at tailoring our products to fit within our client's budget.
Please note that we do not have a trade counter, all orders are despatched either by our own express van service or by nationwide courier service.