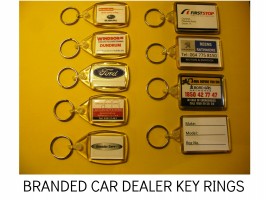 PREMIUM QUALITY CLEAR PLASTIC KEY FOB, WITH DOUBLE-SIDED INSERT
This is an amazingly good value range of HIGH QUALITY KEY RINGS, which are supplied with your branding or message permanently encapsulated in clear plastic.
They are specially designed to display a different message or image in full colouron either side of the fob. Artwork and design is included in our very competitive price structure.
These also have a unique and very durable soft plastic connector from the fob to the ring which renders them virtually unbreakable.
MINIMUM ORDER IS JUST 100 PIECES. A SUPERIOR IRISH MADE PRODUCT
2 INSERT SIZES ARE AVAILABLE, 24mm x 35mm and 35mm x 50mm.
---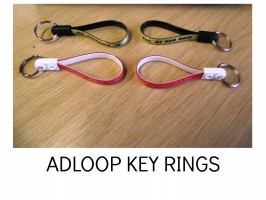 We also supply the very popular AD-LOOP KEY RING loops, see image above, available in a huge choice of colours with branding on the loop, call us for prices & more details.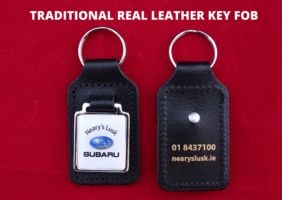 TRADITIONAL REAL LEATHER KEY FOB This is a lovely quality product in genuine black leather with a domed full colour flip-up logo on the front and a name or message blocked in gold or silver on the reverse. Call us for prices and more details.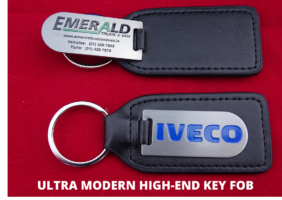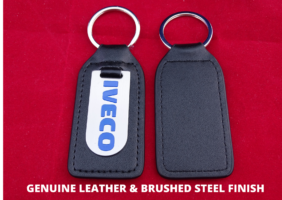 THE ULTRA MODERN HIGH END LEATHER KEY FOB This is a premium quality product in top grade black leather with an engraved brushed steel satin finish flip-up logo on the front and your garage name and address or other message engraved in colour on the reverse. Minimum order is 500, and prices are very reasonable. Call us for prices and more details.
NEW TO OUR RANGE This is a chunky key fob with a soft touch rubberised finish with 3D raised lettering on both sides, and available in a renge of colours. Call us for prices and more details. More images to be added shortly.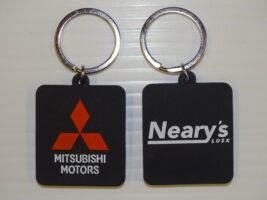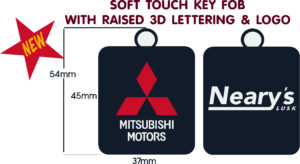 HiProfile Signs & Automotive Solutions,
HiProfile Automotive Solutions are specialists in cost effective showroom and forecourt display & advertising material, and point of sale products, such as visor price boards, window boards, windscreen corner flashes, key tags, key rings, roof signs, back window stickers, tax & insurance holders, reg plate surrounds, reg plate surround stickers, service reminder stickers, car data cards and mini window stickers. HiProfile offer a complete service from design, printing and manufacture right through to delivery and application or fitting where required.UNBRANDED PRODUCTS ARE AVAILABLE OFF THE SHELF FOR IMMEDIATE DELIVERY.HiProfile specialise in complete start-up packages and can offer excellent discounts, for example, we can supply Tax & Insurance holders, Rear Window Stickers and Number Plate Surrounds all branded with your details as a package for far less than if purchased individually.
The business is 100% Irish owned, and a large proportion of our product range is manufactured in this country with local labour and we welcome your support.
At HiProfile we have a vast selection of products and as a result we are expert at tailoring our products to fit within our client's budget.
Please note that we do not have a trade counter, all orders are despatched either by our own express van service or by nationwide courier service.