SERVICE REMINDER STICKERS
SERVICE REMINDER STICKERS are a  very important item for every garage. Not only are they an effective and inexpensive form of advertising, but they keep your customers coming back. Make use of our in-house design department to design a sticker for you.
Timing belt reminders can be incorporated into all our service stickers if required
WE ALSO SUPPLY SERVICE STICKERS WITH A TICK BOX FOR 'CAR SANITISED' 
Available in 3 standard sizes or to your own specification. Single or double sided and in any colour or colour scheme. Digitally printed or screen printed.
All screen printed double sided stickers have a light block panel so as the sticker is readable from either side when on the windscreen.
PRICE GUIDE:
40mm x 70mm single sided 2 colour sticker: €150 for 500 / €235 for 1000
55mm x 85mm single sided 2 colour sticker: €199 for 500 / €299 for 1000
Digitally printed double sided stickers from €325 for 500 / €550 for 1000
Prices are subject to VAT @ 23% mi
TO ORDER CALL 087 925 1002 or E-mail sales@hiprofilesigns.com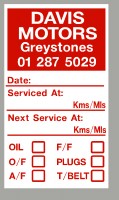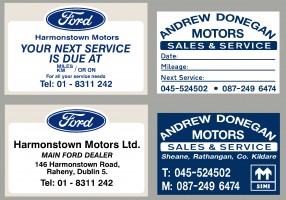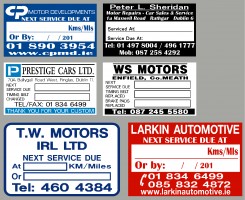 Hi-Profile Signs & Automotive Solutions,
Hi-Profile Automotive Solutions are specialists in cost effective showroom and forecourt display & advertising material, and point of sale products, such as visor price boards, window boards, windscreen corner flashes, key tags, key rings, roof signs, back window stickers, tax & insurance holders, reg plate surrounds, reg plate surround stickers, service reminder stickers, car data cards and mini window stickers. Hi-Profile offer a complete service from design, printing and manufacture right through to delivery and application or fitting where required. UNBRANDED PRODUCTS ARE AVAILABLE OFF THE SHELF FOR NEXT DAY DELIVERY. Hi-Profile specialise in complete start-up packages and can offer excellent discounts, for example, we can supply Tax & Insurance holders, Rear Window Stickers and Number Plate Surrounds all branded with your details as a package for far less than if purchased individually.
The business is 100% Irish owned, and a large proportion of our product range is manufactured in this country with local labour and we welcome your support.
At Hi-Profile we have a vast selection of products and as a result we are expert at tailoring our products to fit within our client's budget.
Please note that we do not have a trade counter, all orders are despatched either by our own express van service or by nationwide courier service.