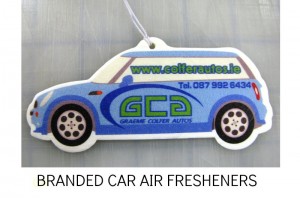 Branded Car Fresheners
Branded AIR FRESHENERS in a variety of modern fragrances. This low cost product is quite possibly the most cost effective advertising tool ever, and these are available in a wide choice of fragrances and in any shape, size or style that you can imagine.
FREE DESIGN SERVICE.  Supplied individually wrapped. Why not have your name & contact details hanging from their mirror 24/7. These are ideal for giving out with new or used car paperwork, or with your business card when receiving an enquiry. Just pop one in the post at any time! Great too for tyre centres, car wash operators, valet centres, and your business too!
Top quality double sided, full colour air fresheners in any shape you can imagine.
PRICE GUIDE: 500 €395, 1000 €650
Please ask for a quote for larger quantities.  Prices subject to VAT @ 23%.
TO ORDER: Call 087 925 1002 or email sales@hiprofilesigns.com
HiProfile Signs & Automotive Solutions,
HiProfile Automotive Solutions are specialists in cost effective showroom and forecourt display & advertising material, and point of sale products, such as visor price boards, window boards, windscreen corner flashes, key tags, key rings, roof signs, back window stickers, tax & insurance holders, reg plate surrounds, reg plate surround stickers, service reminder stickers, car data cards and mini window stickers. HiProfile offer a complete service from design, printing and manufacture right through to delivery and application or fitting where required.UNBRANDED PRODUCTS ARE AVAILABLE OFF THE SHELF FOR IMMEDIATE DELIVERY.HiProfile specialise in complete start-up packages and can offer excellent discounts, for example, we can supply Tax & Insurance holders, Rear Window Stickers and Number Plate Surrounds all branded with your details as a package for far less than if purchased individually.
The business is 100% Irish owned, and a large proportion of our product range is manufactured in this country with local labour and we welcome your support.
At HiProfile we have a vast selection of products and as a result we are expert at tailoring our products to fit within our client's budget.
Please note that we do not have a trade counter, all orders are despatched either by our own express van service or by nationwide courier service. MI</s