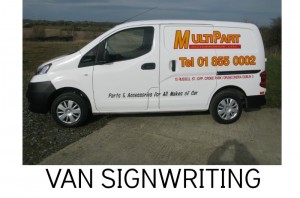 Vehicle branding, Graphics and sign writing
A vehicle, your vehicle, any vehicle, be it a car a van or even a bus is a BLANK PAGE. Hi-Profile can fill it for you.
You can advertise your business, 24 hours a day, 7 days a week, 52 weeks a year… All for a once off payment for vehicle signage or graphics.Just one panel, maybe the back window or perhaps the whole car, we can cover it, expertly.Hi-Profile can supply and fit if required, permanent or temporary signwriting and vinyl graphics to any vehicle for any purpose.Hi-Profile know of one shop-keeper who increased his business massively, simply by advertising on a car roof, it was read by all the shoppers upstairs on the buses!Put our thirty five years of experience in this area to use in your business, today.PRICE GUIDE: We can supply and fit vehicle graphics in top quality vinyl with a 5 year guarantee to both sides and the back of your van for €175 all inclusive. WE COME TO YOU, collect your vehicle and return it finished a few hours later! It just couldn't be easier. (Terms and conditions apply)Go to our gallery pages to see more ideas and images of these products
HiProfile Signs & Automotive Solutions,
HiProfile Automotive Solutions are specialists in cost effective showroom and forecourt display & advertising material, and point of sale products, such as visor price boards, window boards, windscreen corner flashes, key tags, key rings, roof signs, back window stickers, tax & insurance holders, reg plate surrounds, reg plate surround stickers, service reminder stickers, car data cards and mini window stickers. HiProfile offer a complete service from design, printing and manufacture right through to delivery and application or fitting where required.UNBRANDED PRODUCTS ARE AVAILABLE OFF THE SHELF FOR IMMEDIATE DELIVERY.HiProfile specialise in complete start-up packages and can offer excellent discounts, for example, we can supply Tax & Insurance holders, Rear Window Stickers and Number Plate Surrounds all branded with your details as a package for far less than if purchased individually.
The business is 100% Irish owned, and a large proportion of our product range is manufactured in this country with local labour and we welcome your support.
At HiProfile we have a vast selection of products and as a result we are expert at tailoring our products to fit within our client's budget.
Please note that we do not have a trade counter, all orders are despatched either by our own express van service or by nationwide courier service.