Stripes and car graphics
Many motor traders with thinning or greying hair will remember that at one time this is what Hi-Profile did best, especially in the Japanese import boom days in the late eighties! We fitted tasteful stripe kits to ship loads of cars, often on the dockside. But even today our expertise is still called on to lift the look of a car in the wrong colour, or to HIDE UNSIGHTLY KEYING, scratches and paint imperfections, for a fraction of the cost of paintwork.
We can match most manufacturer's original factory pin stripes, logos and limited edition graphics and coach lines, even those fitted many years ago.
PLEASE NOTE: We are unable to supply rolls of stripes, we offer a bespoke supply & fit service by appointment.
We specialise in the supply and fitting of temporary graphics for: NEW CAR LAUNCHES, SPECIAL DISCOUNT OFFERS, OPEN DAYS, SPECIAL OFFERS, FINANCE OFFERS, SCRAPPAGE DEALS Etc.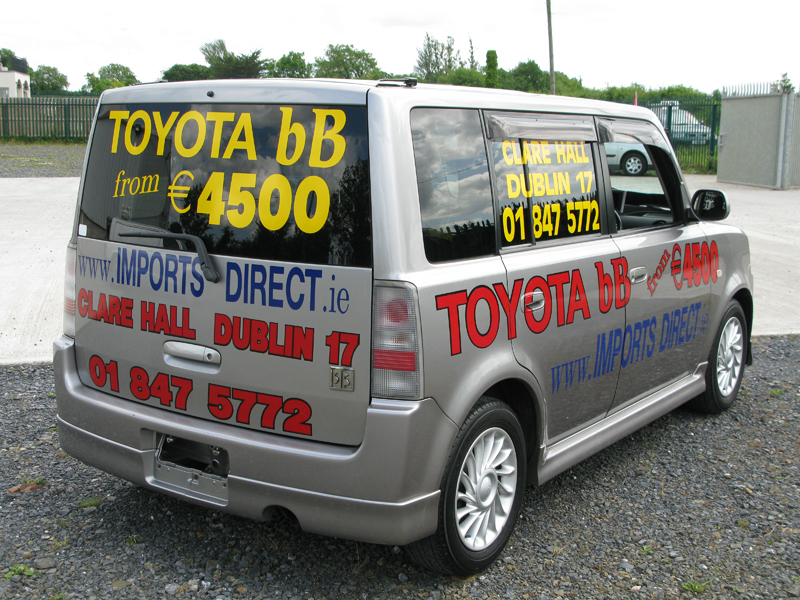 HiProfile Signs & Automotive Solutions,
HiProfile Automotive Solutions are specialists in cost effective showroom and forecourt display & advertising material, and point of sale products, such as visor price boards, window boards, windscreen corner flashes, key tags, key rings, roof signs, back window stickers, tax & insurance holders, reg plate surrounds, reg plate surround stickers, service reminder stickers, car data cards and mini window stickers. HiProfile offer a complete service from design, printing and manufacture right through to delivery and application or fitting where required.UNBRANDED PRODUCTS ARE AVAILABLE OFF THE SHELF FOR IMMEDIATE DELIVERY.HiProfile specialise in complete start-up packages and can offer excellent discounts, for example, we can supply Tax & Insurance holders, Rear Window Stickers and Number Plate Surrounds all branded with your details as a package for far less than if purchased individually.
The business is 100% Irish owned, and a large proportion of our product range is manufactured in this country with local labour and we welcome your support.
At HiProfile we have a vast selection of products and as a result we are expert at tailoring our products to fit within our client's budget.
Please note that we do not have a trade counter, all orders are despatched either by our own express van service or by nationwide courier service.